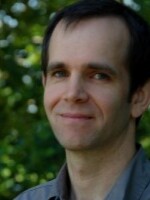 Rob Manning
News Editor | OPB
Rob Manning is a news editor at Oregon Public Broadcasting, with oversight of reporters covering education, healthcare and business. Rob became an editor in 2019, following about 15 years covering schools and universities in Oregon and southwest Washington as OPB's education reporter.
The Alsea School District in Benton County has put masking decisions in the hands of staff and families. The state says that will deprive Alsea schools of federal COVID-19 funds.

State health officials are proposing a permanent rule that would be rescinded when it's no longer deemed necessary.

In guidance for the return to school at the end of next month, Oregon officials "strongly advise" steps to manage COVID-19 risk, but shy away from new mandates.

The state unemployment rate improved to 5.6%, while the national rate crept up a hair to 5.9%.

The report concludes that people of color, low-wage earners and women were more likely to suffer job losses during the pandemic.

Senate Bill 513 requires a half credit civics course for an Oregon diploma, starting with the Class of 2026.

Members of Oregon's congressional delegation and its legislature are working to improve support for families with young children.

The Portland metro area is not included — but counties across much of the state can start vaccinating "Group 7" right away.

Oregon education officials would rather not have students return to school, just to spend several days taking state tests.

Oregon Gov. Kate Brown has said in order to run full-contact sports outdoors, high schools have to offer some instruction indoors.

More student-athletes in Oregon will get a chance to compete, under an announcement Wednesday from Gov. Kate Brown.

As Oregon ramps up vaccine distribution, the state's death toll continues to climb.