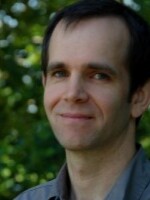 Rob Manning
News Editor | OPB
Rob Manning is a news editor at Oregon Public Broadcasting, with oversight of reporters covering education, healthcare and business. Rob became an editor in 2019, following about 15 years covering schools and universities in Oregon and southwest Washington as OPB's education reporter.
Oregon Gov. Kate Brown has said in order to run full-contact sports outdoors, high schools have to offer some instruction indoors.

More student-athletes in Oregon will get a chance to compete, under an announcement Wednesday from Gov. Kate Brown.

As Oregon ramps up vaccine distribution, the state's death toll continues to climb.

Oregon community college enrollment fell by almost a quarter from 2019 to 2020, according to official numbers released Friday.

The State Board of Education approved a temporary rule, banning the Confederate flag, swastika and noose from the state's public schools.

Oregon has been approved for several weeks of $300 weekly unemployment assistance from the Federal Emergency Management Agency.

The Oregon Department of Justice and two of its largest universities have joined a legal fight against the Trump Administration over new limits on international students during the COVID-19 pandemic.

The bottom line from the 21-page audit was straightforward: "Children experiencing disabilities are not consistently receiving the access to services and supports they are entitled to and need."

After approving 31 Oregon counties for Phase 1 reopening four weeks ago, and then allowing 26 of those to open further to Phase 2, last week, Gov. Kate Brown is slamming the brakes on further relaxing of rules she put in place to stem the spread of COVID-19.

The new guidance for child care centers is similar to the "emergency" rules that providers have been regulated by. But there are some differences.

A number of churches, including Elkhorn Baptist in Baker City, argue Brown's executive orders are invalid on "constitutional procedural grounds."

In Oregon, 1,700 of the state's roughly 4,000 licensed child care centers are shut, with preschool teachers and daycare staff losing their jobs.