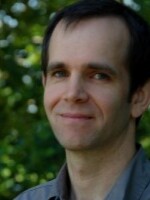 Rob Manning
News Editor | OPB
Rob Manning is a news editor at Oregon Public Broadcasting, with oversight of reporters covering education, healthcare and business. Rob became an editor in 2019, following about 15 years covering schools and universities in Oregon and southwest Washington as OPB's education reporter.
A 110-page investigative report documents a hostile work environment experienced by a female attorney of color in the agency's new paid family leave program.

Senate Bill 1045 would allow the Oregon Department of Education to withhold state funding, or direct how money is spent, in districts that ran afoul of state regulations.

The West Linn-Wilsonville School District is updating its reading curriculum at the same time lawmakers are looking to enact new state literacy guidance.

Fuel prices in Oregon spiked 50 cents per gallon over the last week — the sharpest spike of any state in the country.

Oregon's unemployment rate has stopped falling and jobs have recovered to pre-pandemic numbers. And federally-funded temporary employees are leaving the employment department.

Commissioner Val Hoyle's decision to run for Congress left an open seat atop the state's Bureau of Labor and Industries.

The state health agency held its first COVID briefing since early March, in the wake of a federal court ruling rescinding mask requirements on planes, trains and buses.

How much time do you have to get out of the way of a tsunami? And what way should you go and how fast do you have to move?

The Oregon Health Authority reported 1,613 cases Tuesday. Less than a month ago, the state was reporting numbers nearly seven times that high as the omicron wave peaked.

Oregon Gov. Kate Brown set a goal for an additional million more people to receive COVID-19 vaccine booster shots by the end of January. Barely half of that got them.

The Alsea School District in Benton County has put masking decisions in the hands of staff and families. The state says that will deprive Alsea schools of federal COVID-19 funds.

State health officials are proposing a permanent rule that would be rescinded when it's no longer deemed necessary.