Schools And Assistance Center Open In Weed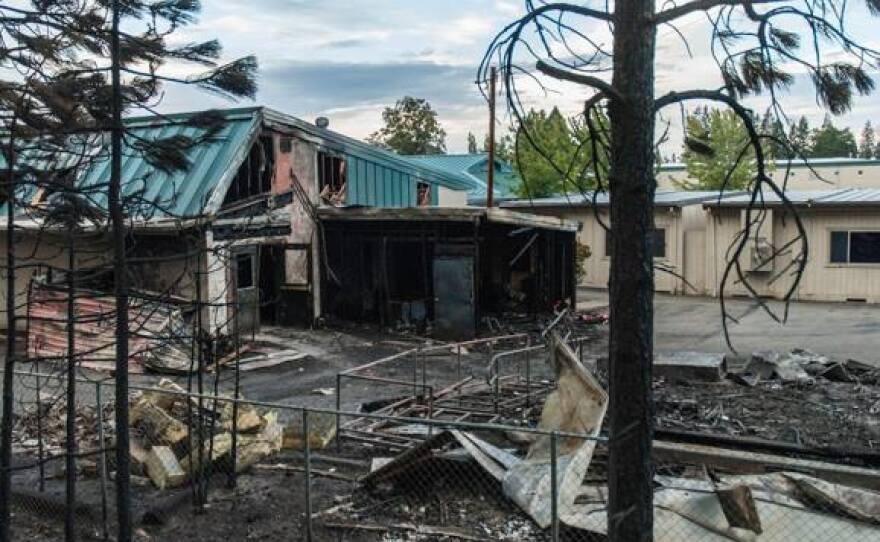 Weed Elementary School soon after the fire.
Dominic Barth/JPR
An entire neighborhood in Weed is reduced to ashes by the Boles Fire.
Courtesy of Cal Fire
The Boles Fire burning Monday on the northeast side of Weed
Nate Scott
The Boles Fire, burning Monday in the city of Weed
Heather Franklin / via Facebook
Some of the damage at Weed Elementary School
Carlos Saucedo / via Twitter
A home burns in the Boles Fire
via Twitter
The Boles Fire as seen from I-5 Monday afternoon
Nate Scott
A woman watches the Boles Fire burn near the high school
Nate Scott
UPDATED | Tuesday 5 PM
Students returned to public schools in Weed Tuesday, the first day back since a fire destroyed nearly 150 homes in the city.
Weed Elementary School lost a classroom to the Boles fire on September 15th, and four teachers had to move to different rooms until repairs can be made.
Weed High School was undamaged in the fire, but both schools put restrictions on student movements: no students are allowed to walk to school because of potential danger in the burned area, and no high school students are allowed to leave for lunch.
A local assistance center opened Tuesday at the College of the Siskiyous campus in Weed, adding to the service centers now open (see map) for fire victims.
The center will be open 9 AM-6 PM through Saturday (September 27th), and will be staffed by government agencies from all levels, to let residents begin to replace lost licenses and documents and access services.
City crews began removing household hazardous waste from the burned-over area Monday. The city continues to work with the county and state to develop a recovery plan for Weed. Repairs to infrastructure are already underway.PREVIOUSLY:
Fire officials declared the Boles Fire fully contained Saturday morning, and are allowing residents to return to their neighborhoods to see what's left of their homes. For 143 families, it won't be much more than ashes. About 1500 residents of the city of Weed were evacuated with almost no notice from an inferno that engulfed entire neighborhoods last Monday, burning more than 150 structures.
In a community meeting Thursday night, fire officials told evacuees that some roadblocks would be lifted Friday morning. Residents who's homes are still standing and haven't been "red-flagged" as uninhabitable will be allowed to stay. The rest may inspect their properties for valuables during daylight hours.
As fire officials investigate how the Boles Fire started, they're hoping the offer of a $10,000 reward may bring forward information leading to the cause, even as hotspots still burn within the Weed city limits. The fire was declared 100% contained Saturday morning, although after more thorough mapping the burned acreage has been revised to 479 acres.
The fire reduced entire neighborhoods to smoldering rubble. It burned more than 150 structures in just a few hours, destroying 143 homes, two churches and the town's library. The fire also damaged an elementary school and burned portions of the town's largest employer, Roseburg Forest Products Mill.
The fire started in a field behind an apartment complex early Monday afternoon, whipped by 35 mph gusts. The winds carried embers that sparked spot fires across the city.
Highway 97 has been reopened but Hoy Road remains closed. College of the Siskiyous resumed classes Thursday, and Weed's elementary school will open again on Tuesday.
Three injuries have been reported.
The Red Cross is operating an evacuation center at the Mt Shasta National Guard Armory, next to the high school in Mt Shasta, and is asking people who would like to help to donate money, not items.
Weed's tap water is safe to drink again, according to a spokesperson for the Boles Fire. Residents had previously been told to boil their water before drinking it due to possible ash contamination.
A panoramic video of the Boles Fire was filmed by Siskiyou County resident Nate Scott Monday afternoon showing the breadth of the destruction. Photographer Dominic Barth accompanied JPR's Eric Teel into the evacuated zone Tuesday afternoon and captured a slide show of images.
At least five other large fires are also burning in the region, including the Happy Camp Complex Fire, which recently merged with the July Complex's Man Fire. Together, they have burned more than 167,000 acres. More information on other Northern California fires here.