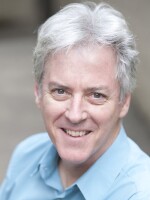 Geoffrey Riley
Jefferson Exchange Host | Producer
Geoffrey Riley marked his tenth anniversary as the full-time host of the Jefferson Exchange at the end of 2019, and his 35th anniversary as a Rogue Valley broadcaster followed soon after.
His first exposure to JPR came as a dedicated listener, then Geoff came to the Exchange as a back-up host in the fall of 2000. He values the time--two full hours each day--that the Exchange can use to explore issues of the region and the world in great depth and detail.
Geoff is a New York native, with stints in broadcast news in Missouri, Alabama, and Wisconsin before his arrival in Oregon. He is a graduate of the University of Missouri School of Journalism.
It's a simple thing, really, saying "I'm sorry, I messed up." Well maybe the words are simple, but the process stumps a lot of us. In fact, it's not…

Cold air and moist air will meet over the region Tuesday and Wednesday, with significant snowfall expected.

If it wasn't Walter Cronkite, it was David Brinkley: for a couple of decades, Americans tended to share news sources. The mainstream media, derided today…

Final arguments in the U.S. Senate impeachment trial of President Trump are scheduled for four hours on Monday (February 3rd). The News & Information…

Most of the giants of early rock and roll have long since left the stage. But two of them live on, in a sense, in live performances. Buddy Holly and Roy…

The debate over the use of "cyanide bombs" to kill wildlife took a couple of turns of late. After the Oregon legislature passed a law banning their use,…

The viral video of a sea turtle with a plastic straw stuck in its nose may have convinced quite a few people to stop using so much plastic. It can be…

There are still people who spend their summers on mountaintop perches, scanning the horizon for wildfires. But lookouts staffed by live humans have…

Henry David Thoreau was not the only writer to head for solitude in the woods. Karen Auvinen, an award-winning poet, took a leave from people to immerse…

If you want to learn how to take a race car around a track at screaming fast speeds, Ben Collins would be a great choice for a teacher. But he wants…

Avista Utilities workers are slowly restoring gas service to thousands of customers who lost gas service in Ashland on Tuesday (March 19th). Avista says…

Freak out your loved ones: tell them you want to change your career to comedy. Laughing is fun, but it takes work to produce laughs, and often little…