The Jefferson Journal is JPR's members' magazine featuring articles, columns, and reviews about living in Southern Oregon and Northern California, as well as articles from NPR. The magazine also includes program listings for JPR's network of stations.
Women Of The Baton
The names Chiquinha Gonzaga and Elfrida Andree probably won't ring a bell with many classical music fans today, but both were not only pioneers in music as the first female orchestra conductors in their respective hemispheres, they were both strong advocates for women's rights, paving the way for women who wanted to follow in their footsteps with professional music careers.
Although we've come a long way, more than a century later, women still make up only a small fraction of professional orchestra conductors around the globe.
Brazilian Chiquinha Gonzaga (1847-1935) couldn't imagine a life without harmony. So when her naval officer husband forbade her from playing the piano and guitar, forcing her to choose between him and creating music, she chose harmony. And by that, I mean music, not keeping the peace in her marriage. She left him and ended up having to support herself by playing and composing music. When Gonzaga became the first known female in the world to lead an orchestra in 1885, journalists covering the sensational event had a big problem. There was no word in the Portuguese language to describe a female conductor. They ended up using the Italian word maestro and feminizing it, coming up with the term Maestrina.
A few years later, Swedish organist Elfrida Andree (1841–1929) became the first female in the northern hemisphere to take up the baton when she was tapped to conduct the Workers Institute Concerts in Gotheberg in 1897. She was also instrumental in changing employment laws for women in Sweden.
In 1861 she rallied to legally gain the right to apply for a job as an organist, which she did immediately. She was also the first woman to become a telegraph operator in Sweden, opening up many jobs that had previously only been held by men.
Although we've come a long way, more than a century later, women still make up only a small fraction of professional orchestra conductors around the globe. Even in small numbers, their accomplishments are extraordinary, with an ever-growing number of acclaimed recordings to highlight during Women's History Month featuring women of the baton.
Marin Alsop
Marin Alsop (b. 1956) is probably the most celebrated female conductor to date. The New York City native has had a stunning career that has taken her to the podium of numerous orchestras around the world and one right here in the JPR listening area.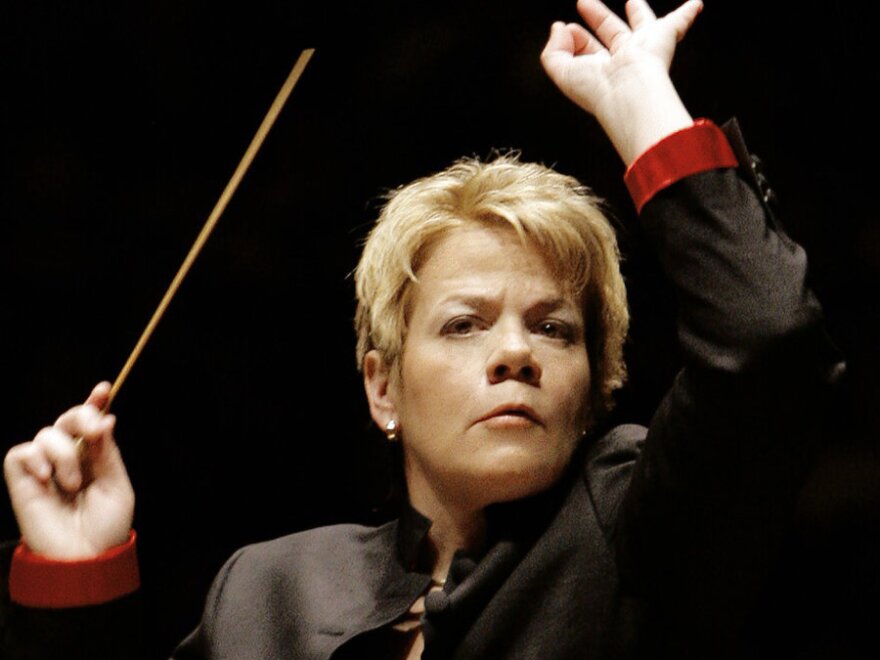 Alsop has served as conductor the Sao Paolo State Symphony Orchestra, the Bournemouth Symphony the Royal Scottish National Orchestra, and earlier in her career led the Eugene Symphony. Later this year she officially becomes the first female to serve as chief conductor of the Vienna Radio Symphony Orchestra. Alsop also earned the distinction of becoming the first woman to be appointed as the principal conductor of a major American orchestra when she became the music director of the Baltimore Symphony Orchestra in 2007. She became the first female conductor to ever commercially record a Brahms symphony cycle, and this month I'll share one of them as a featured work. Tune in on March 1st as we kick off International Women's History Month with a recording of Brahms' 4th Symphony with Alsop leading the London Philharmonic.
JoAnn Falletta
JoAnn Falletta (b. 1954) shares more in common with Marin Alsop than a career. She's another New York City native, and also trained at Juilliard. Falletta's instrument was the guitar, and she got her start performing with the New York Philharmonic and the Metropolitan Opera.
From there she picked up the baton and began leading a student orchestra at the Mannes School of Music. Some of the professional orchestras she went on to lead include the Jamaica Symphony Orchestra, the Milwaukee Symphony, the Denver Chamber Orchestra, the Bay Area Women's Philharmonic and the Hawaii Symphony.
She's also made many recordings with the Buffalo Philharmonic. It's their recording of Ottorino Respighi's "Church Windows" that I'll feature on March 8th, which is also International Women's Day.
Jeanne Lamon
And yet another New York City native and Juilliard trained conductor is Jeanne Lamon (b. 1949). What separates Lamon from Alsop and Falletta is that she specializes in the Baroque era, and most of the recordings she's been involved with reflect that.
Lamon is also an award-winning violinist who led the Canadian based Tafelmusik Baroque Orchestra for over three decades before retiring in 2014. Tafelmusik now has another female director, Italian violinist Elisa Citterio, the group's former concertmaster. While not as well-known as a conductor of symphony hall performances, Lamon was been very active in the recording studio, leading the way through Vivaldi's Four Seasons and Bach's Violin Concertos. On March 15th, you'll be treated to a recording of Lamon conducting Tafelmusik and violinist Linda Melsted in a performance of Joseph Boulogne's Violin Concerto in D.
Monica Huggett
Finally. A female conductor who wasn't born in the Big Apple! Grammy winner Monica Huggett was born in London, England in 1953, and studied violin at the Royal Conservatory of Music. As a fellow at the Royal Academy of Music, Huggett also serves as a professor of violin at the Bremen University of the Arts in Germany. In the role of conductor, she has served as the director of the Hanover Band, the Portland Baroque Orchestra, the Irish Baroque Orchestra, and has guest directed countless others, including the Orchestra of the Age of Enlightenment, the Los Angeles Chamber Orchestra, the Concerto Copenhagen, and founded the Ensemble Sonnerie and Hausmusik London.
Her Grammy Awards were for recordings of Bach Sonatas and Partitas and H.I.F. Biber Sonatas. Monica Huggett sets down the violin and picks up the baton to conduct a recording of Telemann's Suite in A Minor for Recorder and Strings as the featured work on March 22nd.
The Rest Of The Best
On the last Friday in March, the afternoon will be filled with music directed by female conductors, with recordings that include Canadian born Keri-Lynn Wilson leading the Simon Bolivar Symphony Orchestra of Venezuela and French Legion of Honour recipient Laurence Equilbey championing on the Accentus Chamber Choir, and Iona Brown conducting the Norwegian Chamber Orchestra. Siskiyou Music Hall will also include a performance of Paul McCartney's "Tuesday" with English conductor Andrea Quinn leading the London Symphony Orchestra, as well as more from Huggett, Alsop, Lamon and Falletta. The featured work March 29th will highlight another Brit, Jane Glover, conducting the London Mozart Players in a performance of Mozart's 36th Symphony.
While Valerie Ing has waved her arms to lead many orchestra performances over the past 17 years, each instance has been in front of an imaginary group of musician in the privacy of JPR's radio studio while hosting Siskiyou Music Hall. You might be able to catch her in the act if you peek through the windows of JPR's Redding studios, where Valerie serves as the Northern California Program Coordinator. You can also tune in to Siskiyou Music Hall weekday afternoons from noon to 4 on the Classics & News Service.