Amateur Radio Is There When All Else Fails
Our communications systems may seem robust, but past disasters have shown this isn't the case. Amateur radio groups around the country, and even in the State of Jefferson, are there to fill the gaps.
Imagine there's been a natural disaster in your area. You've lost power, it's impossible to get in your car and drive somewhere safe, and most importantly, the cell towers are down. How will you get in contact with friends and family to tell them you're alright? That's where amateur radio operators come in.
"In Puerto Rico back in Maria, amateur radio became, in a military analogy, the light infantry. We could get into a community, establish communication and at least get some information travelling out of that location," says Joe Bassett, a ham radio operator.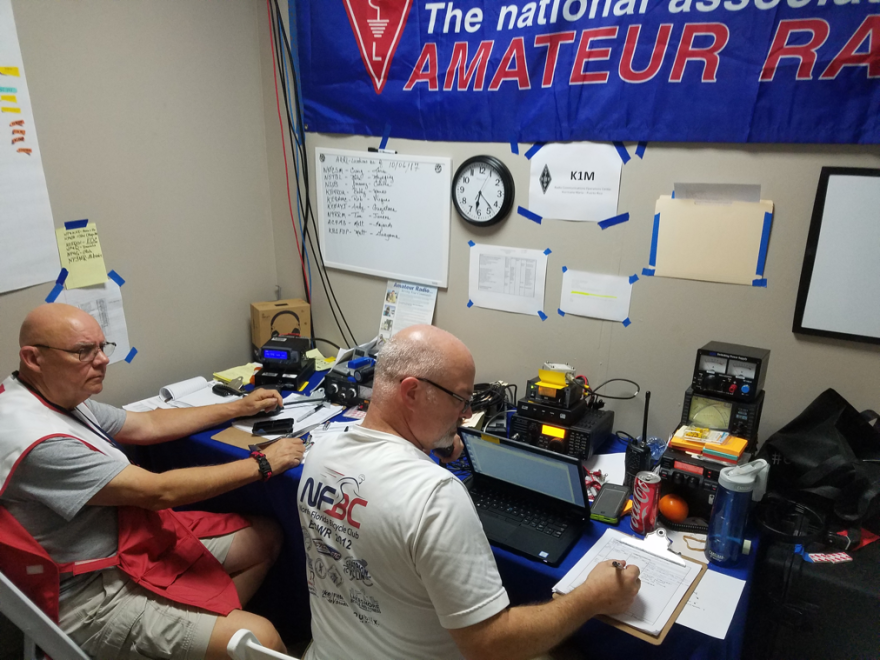 He volunteered with 21 other people to provide communications support in Puerto Rico after Hurricane Maria in 2017. The volunteers helped with many aspects of disaster recovery. Andy Anderson was another volunteer.
"I was assigned to the Guajataca area, the Guajataca dam, particularly because the dam was going to break and they needed somebody up there for safety to communicate with the power company that owned the dam and to the emergency offices in San Juan to get ready," he says.
Puerto Rico is just one example where amateur radio stepped in and helped with disaster recovery. You'll find dedicated volunteers providing support in emergencies all over the country.
Robb Mayberry is with the Office of Emergency Services in California. He says that California works with amateur radio groups frequently, most recently during the Ridgecrest earthquake in July.
"Even though communication lines didn't necessarily go down," he says, "we did have some activity with the amateur radio operators in the field that got on there and started giving us information about what they were seeing out in the area."
The Jackson County Amateur Radio Emergency Service, or JC ARES, practices their radio skills weekly to prepare for the next time disaster strikes. The group's Steve Bosbach says lots of people get involved with amateur radio for the fun of it, but end up finding ways to help their community.
"I've been a ham since 1978 and have done most of the stuff that hams like to do. Working long distance and collecting QSL cards that commemorate the contact," he says. "But now I'm giving back to the community again, using what I know to help out the community."
Groups such as JC ARES are what connects ham radio operators with emergency services organizations. Agencies such as California OES will be in contact with ham radio emergency groups to find amateur radio operators willing to help out in disasters.
You might think ham radio is a dying form of communication, but it's actually stronger than it's ever been. There are more licensed ham radio operators in the US than ever before, and that number continues to grow.
An obstacle faced by the ham community in working together is the differences in training among the hundreds of community groups. Bassett says he saw this first hand in Puerto Rico.
"Say we had someone up there in the Pacific Northwest that had been trained in emergency operations. And then you have myself who does the training for here in Clay County in Florida," he says. "Both procedures and protocols used may be perfectly valid and beneficial in a disaster. But, if they're not the same procedures, it can cause conflict and difficulty and unneeded obstacles."
Bassett says that groups should work with national organizations like the Amateur Radio Relay League to develop centralized training to make it easier for these groups to work together.
If you want to get licensed as a radio operator, many groups hold frequent trainings. But even if you don't want to enter the world of amateur radio, they can still offer some great advice about what to do in a disaster. Steve Bosbach with JC ARES offers a tip about what you can do if your cell phone calls are dropping during a disaster: switch to text.
"Text will just be put in a queue and it'll go out when they find room," he says "But if you're trying to make a direct voice contact it'll just jam up."
Bosbach hopes more people will get involved with their local emergency services organization. By using their knowledge and skills to help out their communities, these hobbyists can have some fun at the same time.