High Winds And Heavy Rain Expected To Hit Oregon, Northern California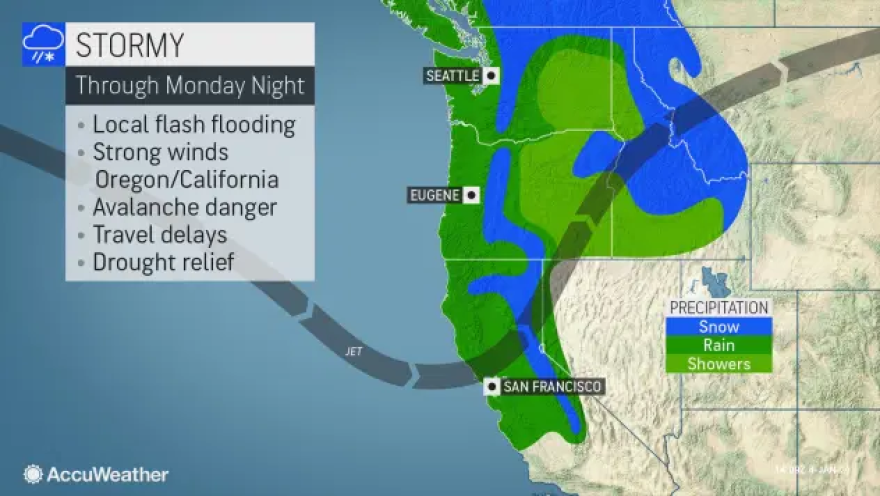 Strong wind and rain storms are expected to hit the West Coast this week, moving south towards Southern Oregon and Northern California.

After a relatively dry winter in Southern Oregon and Northern California, meteorologists say heavy rain and high winds are expected to hit the region this week. Higher elevations will likely experience heavy snow.
Derek Witt, a meteorologist with Accuweather, says that people should take extra precautions when traveling and stay up-to-date on weather alerts.
"It's just good to be aware of any ongoing heavy rain and just keep attune if there are any flood advisories or anything like that that comes out," says Witt. "If you're traveling over the mountains, it's good to look at the forecast for the passes and consider any snow or icy conditions that may develop there due to colder air."
Witt expects heavy rain for a day or two at a time for the next week or so. He says although wet winters are normal in this region, the storms aren't usually back-to-back like they will be this week.
"We get into these patterns where it's just like a day or two we'll have wetter weather ,then it dries out for 24 or 36 hours, and then it gets wet again," says Witt. "That's sort of just the general pattern as these storms are riding up the jetstreams up into the west coast and it's just one right after another."
Because of a late rainy season, Witt says these storms will be especially good for areas of Northern California that have been in a drought. Parts of the North State may get almost as much rain as they did during the entire month of December.