Facing A Hot Wildfire Season, Officials Pitch New Funding Bill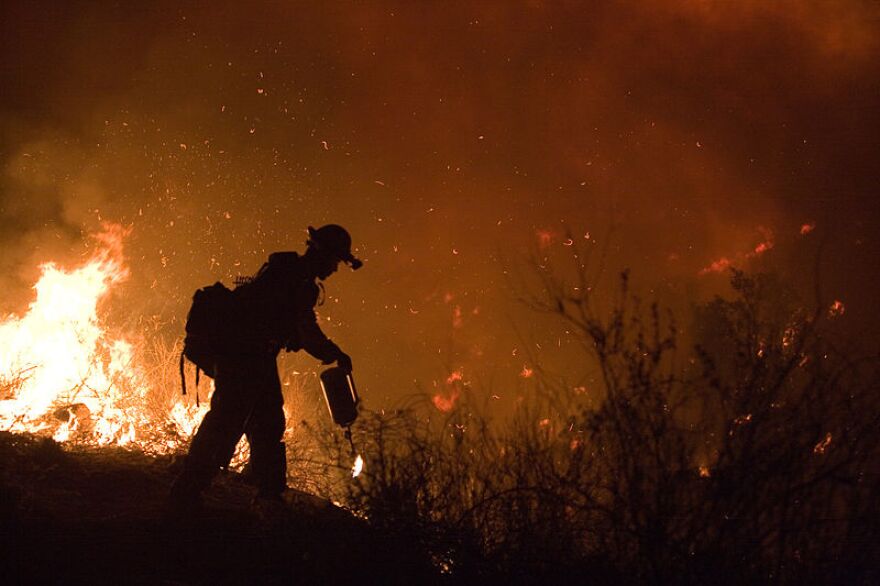 This summer is shaping up to be a hot season for wildfires, especially on the west coast. Federal officials and lawmakers took the opportunity Monday to urge passage of legislation that would treat big wildfires like other natural disasters. They say this would fix a problem that's hampered efforts to prevent the fires in the first place.
Ed Delgado heads the federal office that predicts the risk of wildfire across the country. At a gathering at the National Interagency Fire Center in Boise, Delgado said the lack of rain and snow in much of the west has 2014 looking like it could be a bad one.
Ed Delgado: "California is perhaps our biggest risk right now. The southern California foothills and mountains are at risk a lot sooner than they normally would be. And as you go through the next three or four months, you'll see that expanding up though northern California and just touching into southern Oregon."
That reflects the trend over the past decade or so, where nearly 60 percent more land has burned in wildfires than in the previous 40 years combined. Decades of fire suppression has left many forests overgrown, making for bigger and more intense fires. Climate change is another likely factor. A report from the US Forest Service last year projects rising temperatures and disrupted weather patterns will lead to a 50 to 100 percent increase in wildfires by mid-century. Oregon Senator Ron Wyden told the gathering in Boise that the new reality demands a fresh approach.
Ron Wyden: "The fires now are often bigger, they're often hotter and they often last longer."
In fact, fighting the worst 1 percent of wildfires uses 30 percent of the firefighting budget. That means the government frequently exhausts that budget well before the season ends. When that happens, it borrows money from the account that pays for fire prevention efforts. But, Wyden says …
Ron Wyden: "The problem has been that it really isn't borrowing, it's fire robbery, because the prevention fund often doesn't seem to get paid back, and the problem gets worse and worse."
Wyden says diverting the money used to thin forests and do other work that reduces fire risk increases the odds of bigger, more costly fires. Wyden, a Democrat, is co-sponsoring a bill with Idaho Republican Mike Crapo that would allow big fires to be declared natural disasters. That would make federal disaster funds available to cover shortfalls, rather than raiding fire prevention funds. Interior Secretary Sally Jewell says President Obama's budget proposal for 2015 supports that change.
Sally Jewell: "If tornadoes and hurricanes and earthquakes are natural disasters that we have to use for emergency money, let's do the same for the top one percent of wildland fires, so that every year we're not robbing Peter to pay Paul to try and suppress fires that are really critical."
Jewell says protecting the fire prevention fund from firefighting overruns would be a boost for employment in rural communities, as well.
Sally Jewell: "It also enables us to give certainly to the people, whether they're young people on Youth Conservation Corps crews, members of tribes on Indian reservations, people working for the Forest Service, the BLM, the Fish and Wildlife Service or the National Parks Service, give them a change to tell people now, 'You're going to have a job this summer removing hazardous fuels.' We're not on-again, off-again, depending on what happens with fires."
A similar bill in the House, sponsored by Idaho Republican Mike Simpson, is co-sponsored by Oregon Republican Greg Walden, as well as Democrats Peter DeFazio and Kurt Schrader. This display of bipartisan co-operation, as well as between Congress and the White House, could bode well for the measure's passage. In early discussions, some lawmakers raised objections that the bill could increase the federal deficit. But sponsors say they'll make the case that keeping fire prevention efforts fully funded will lead to fewer costly fires in the long run.