Do Catholic Hospitals Limit Health Care Options For Rural Communities?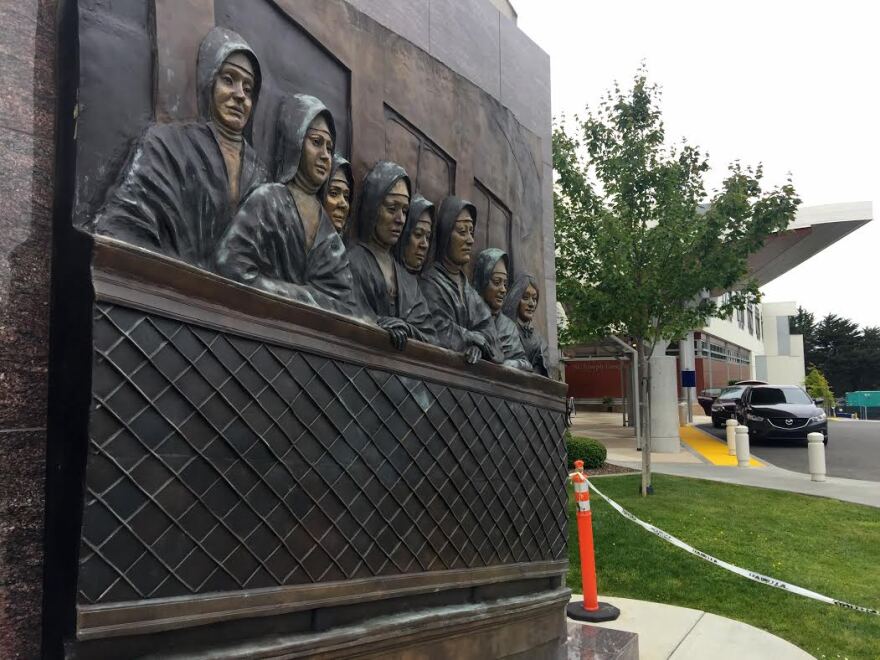 The number of Catholic hospitals and mergers is growing. In many rural areas along the West Coast, Catholic healthcare systems dominate the medical landscape. This raises the question whether important medical decisions are being made by physicians … or bishops.
JPR's Michael Joyce – a physician himself – spoke to health care providers in Humboldt County.
Catholic hospitals have long enjoyed a much-deserved reputation for tending to the needy and offering quality healthcare. Along with this, a recent report by the ACLU and MergerWatch finds the number of Catholic-affiliated hospitals nationwide has grown by 22 percent since 2001. Now, four of the ten largest healthcare systems in the country - that's one out of every six hospital beds - are Catholic-affiliated.
But in Humboldt County, nearly two-thirds of the hospital beds - and about a third of the doctors - are associated with the Catholic St. Joseph Health System. This directly affects health care decisions, mostly at the beginning and end of life.
A reminder of this was just last month, when the End of Life Option Act became law. That's California's version of Oregon's Death With Dignity Act.
"St. Joe's will opt out because it's been the way we've practiced in the almost 100 years since we've been established," says Dr. Bill Parks.
Parks is the Chief Medical Officer for St. Joseph Health in Humboldt County. I ask him if by declining to participate in the End of Life Option Act, doesn't that give a single religious group disproportionate influence in limiting health care options, such as how the terminally ill choose to die?
Parks doesn't think so.
"I don't see it as an option that's going to be limited," he says. "I think there will be those physicians who are going to believe that everybody has that right .. and they do ..and if they can make the medical case for it in their conscience then they probably will participate. I don't anticipate a shortage."
But others think that getting the requisite two doctors to sign off on a patient's End of Life request won't be easy; especially in a rural area with a strong Catholic healthcare presence.
"I think it is going to be extraordinarily difficult for patients in Humboldt," says Dr. Beth Abels.
Abels has been an internist in Humboldt County for 26 years.
"First of all, a lot of patients in Humboldt have no physician," she says. "Either they have no provider or a midlevel provider, and they are apparently not able to sign off on this. Secondly, the physicians who most commonly deal with these end of life dilemmas are the oncologists, and St. Joe's owns the oncologists."
In fact, all of the cancer specialists in the county contract with St. Joseph.
Abels also thinks few of her colleagues will actually be willing to write life-ending prescriptions.
"I think a lot of doctors in general have an ethical dilemma with it," she says. "We are taught to heal. We're upholding the Hippocratic Oath. And I think a lot of people, whether for religious reasons or professional reasons are going to have a hard time writing a prescription to end someone's life."
And then there is the other end of life. Local midwife Stef Stone doesn't like Catholic doctrine limiting the options of her pregnant patients. She notes that Catholic hospitals typically refuse to offer abortions, fertility assistance, or even sterilization procedures like a tubal ligation.
"For example, somebody who's having a C-section and they actually have to go through surgery again to get the tubal somewhere else. And they can't get that tubal during that surgery. I think that's putting somebody in danger," she says.
I ask if she considers that malpractice. She wouldn't go that far.
"I don't know if you can call it malpractice but it's bad, bad decision-making. It's inhumane. That a religious doctrine makes decisions over somebody's body," she says.
And these decisions are based on doctrine; specifically the 72 rules set forth by the US Conference of Catholic Bishops. These rules are called the "Ethical and Religious Directives for Catholic Healthcare Services".
For example, Directive 48, which can actually endanger mothers because it considers aborting an ectopic pregnancy not 'morally licit'.
Medical professionals and evidence-based science are not cited in the document. Quotes from the Bible are.
This despite the fact that Catholic hospitals nationwide receive billions in public funding.
About one in four religious affiliated hospitals are in rural areas. In a prevailing climate of mergers in health care it's very likely that more and more doctors, group practices, and hospitals along the West Coast will join a Catholic healthcare system.
On the one hand, this could mean better access to specialists, high tech equipment, and integrated care.
On the other, choices regarding how we start our lives - or end them - may be increasingly made by someone other than you and your doctor.