What Does A Tribal Education Look Like?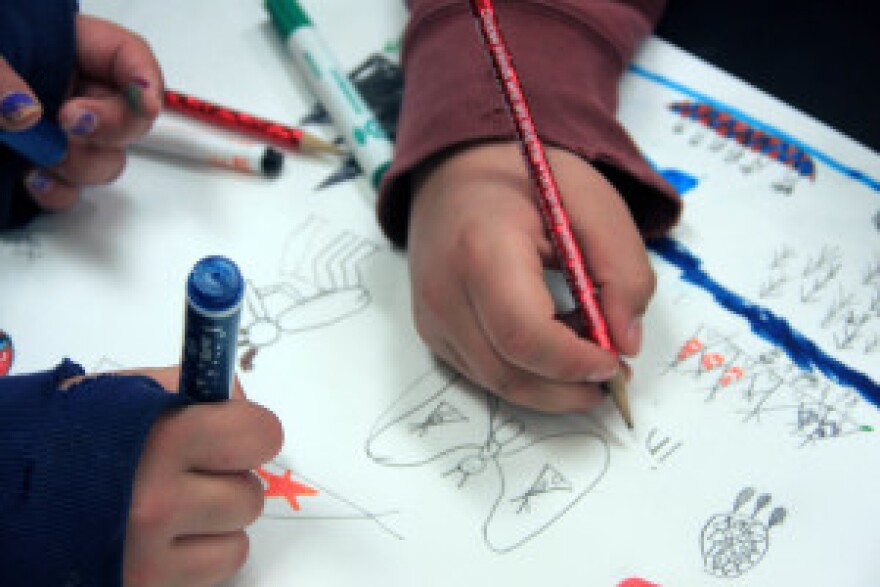 A century ago, Native American children were often taken from their families and educated in boarding schools that sought to "civilize" them by imposing American and European culture.
Now, a school on the Warm Springs Reservation in north central Oregon is working to give Indian children an education that prepares them for life and work in the 21st century but still honors and keeps alive their traditional tribal culture.
Every Monday at the Warm Springs Academy about 30 kids gather in a circle for a blessing song. They're part of the "Soaring Butterflies, Warrior Spirit" after-school program focused on tribal culture.
"[The class] feels kind of like a community thing. It teaches me how to be more like my family," says fourth-grader Krystah Jack-Melvin. "Cause the school just teaches me like how to do like math, and writing and reading. But this is a very special class because they help us learn more about our culture instead of the stuff that we learn in school."
The new school opened in Warm Springs in fall of 2014. Now, tribal students can go to school on the reservation until eighth grade.
Sixth-grader Mark Johnson says his favorite day was learning about the spring root feast, which highlights important tribal foods. He explains that water comes first in the ceremony.
"Cause if there was no water there would be no other animals," says Mark. During their ceremony, he says, "You pour it in a small cup, and then you take a drink when the bell ringer says "chuush" you pour it.
"Chuush"means water in Numu, one of three Warm Springs languages spoken on the reservation. Mark and his classmates have learned several words and phrases in Numu in class.
The school would like to incorporate tribal language and lessons into the classroom curriculum. But only six of the school's 29 instructors are native, and non-tribal teachers don't always feel comfortable teaching tribal culture.
At this stage, the school is focused on boosting academics, says Glenna DeSousa, principal of the school. The old Warm Springs K-5 school was categorized as a "priority school," which means it was one of the lowest-performing schools in the state.
"We're at the very beginning," says DeSousa. "We really have to have that focus on academics. I'm not saying that you can't do that through culture but we are at a starting point."
DeSouza hopes to incorporate tribal learning into the classroom down the road.
Education in Warm Springs is managed by the Jefferson County School District through an agreement that's written into the tribe's treaty with the federal government. Some tribal members say that Warm Springs should have its own school district, or at least a high school. After eighth grade, most tribal students commute to high school in Madras.
Frank Smith is an elder who teaches with the "Soaring Butterflies, Warrior Spirit" program. "I think we've always needed a high school here in Warm Springs because all the other reservations around us all have their own high schools," he says. "We should have had one a long time ago."
But a reservation high school isn't likely anytime soon.
The $21 million cost of the new academy was split between the tribes and the school district. But some tribal councilors recently said that the tribe's finances are in trouble. And, at the moment, there's no concrete plan for a high school.
So for now, there's a language course for elementary students before school, and the "Soaring Butterflies, Warrior Spirit" program after school.
On this day, students are leaning over big sheets of poster board, creating a logo for their group with Elder Myra Johnson-Orange.
"Remember the sticks, how many sticks did the wind man use?" Johnson-Orange asks the kids.
"Five. Six," they answer.
"Five. Good job. Pesa," she tells them.
"I'm drawing the sun, the moon the stars and something else," says Krystah Jack-Melvin.
The posters are full of colorful drums, rivers, salmon and phrases like "honor elders." Some phrases reflect another teaching of the after-school program.
"I'm putting 'No drugs.' Because the world is—I bet would be better without drugs because people die from drugs," Krystah explains.
She adds that the class has helped her decide two things she wants to be when she grows up: a Warm Springs police officer to help prevent drug use. And a mom, so she can pass the cultural skills she's learned as a Soaring Butterfly on to her kids.
Copyright 2015 Oregon Public Broadcasting